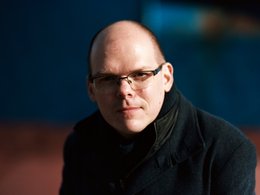 After high school, Kasper Rofelt (b. 1982) trained in composition and music theory at the Royal Danish Academy of Music with teachers including Bent Sørensen and Niels Rosing-Schow in his major subjects, as well as studies with Per Nørgård in 2006-2010 in parallel with the Academy. He has also studied with Simon Bainbridge and Philippe Leroux. He got his Master's degree in 2010 and received his Advanced Postgraduate Diploma in Music in 2014. In addition, he holds a bachelor's degree in English and musicology from the University of Copenhagen.
Kasper Rofelt has composed a large quantity of works for many different types of instrumental configuration and in many genres. Cornerstone works in his production are the three solo concertos for cello, accordion and saxophone, symphony no. 1, a number of solo pieces for piano, accordion, guitar and percussion, not to mention a number of songs based on poems by Pia Tafdrup and Lorca.
Along with works for professional musicians and ensembles, Kasper Rofelt has also composed a number of works for children and youngsters.
So far, his music has been played in all of the Scandinavian countries, the United States, the Baltic States as well as in Russia, China, Germany, France, the UK and Greece.
Among musicians and ensembles, he has written music for and collaborated with, we find for example:
Recorder player Michala Petri

Ensemble Storstrøm
Odense Symphony Orchestra
Cellist Toke Møldrup 

The French conductor Jean Thorel 

Concert organist David Sanger

Violinist Christina Åstrand

Pianist David Lau Magnussen 

Cellist Jakob Kullberg

The classical accordionist Bjarke Mogensen 

Cellist Andreas Brantelid

The Århus Sinfonietta

The Esbjerg Ensemble

The Diamond Ensemble

The recorder player Pernille Petersen

Flutist Jennifer Dill

MYTHOS Accordion Duo
The classical accordionist Andreas Borregaard
The Danish Horntrio
Recorder player Bolette Roed
Ensemble TM+
Kasper Rofelt has received a number of grants and awards, including an award from the Danish Arts Council in 2018 for his cello concerto 'Night Phase', a Sonning Scholarship in 2014 and several grants because of his artistic contribution to contemporary classical music.
In 2019, he was nominated for Carl-prisen for his cello concerto 'Night Phase'.